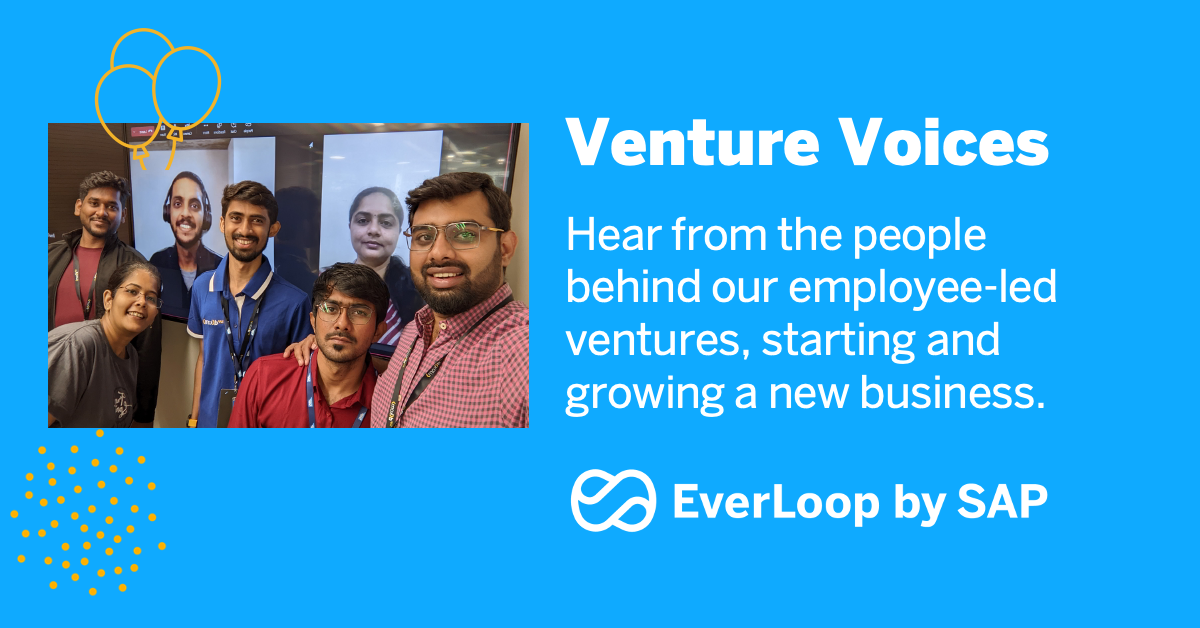 Just about one year ago, the SAP.iO Venture Studio welcomed a new venture to their team: EverLoop by SAP. With this milestone just passing, we thought it would be great to talk to the growing team, give a little recap of the past 365 days and take a peek into their future.
The first 365 days
Founding a venture within a large corporation requires ambition, an innovative spirit and persistence. EverLoop by SAP unites those qualities. Building a B2B sustainability waste management solution, the teams' goal is to empower businesses to achieve zero waste. The solution digitalizes the complete disposal process and helps businesses track and trace e-waste from the time it's identified until it has been fully recycled or refurbished. And they have already come a long way.
Starting an employee-led startup within SAP, the team went through a six-week accelerator program in 2020 and received funding at the beginning of 2021. Looking back at the past year, the venture had some big achievements.
"For me, bringing our product to life by releasing the EverLoop alpha product version with eight pilot customers was the biggest achievement in 2021," said Kiruthika S, Co-founder, and Head of Product at EverLoop by SAP. Ajit Chandran, Co-founder, General Manager, and Head of Business, added "It was when two large enterprises accepted a pilot with us within a week of releasing our first alpha version and of course when an article on our venture was published in one of the leading newspapers in India."
Challenges and learnings along the way
When putting a vision into action, it is most likely that you will encounter some challenges that need to be tackled. "One of our biggest challenges was to coordinate work and communication with the team," explained developer Prasanna Nandalal. "Planning your own workday but also aligning your timeline with the timelines of other team members needed some practice."
Finding oneself in this new environment can be an adjustment. "Working at EverLoop by SAP, I experienced working in a fast-paced and agile start-up environment. This has helped me for my personal and professional development," said Nishanth Nimbalkar, developer. "I have learned to be a team player and adapted to the challenges of remote working."
After one year as a venture, the team has probably a pretty good idea of what went great and what needs more attention or adjustment. "Starting a venture is like growing a plant. You have to sow the seed, nurture it daily under the right conditions and hopefully after a while, you can reap the fruits," said Kiruthika about her learning of the past 12 months. "Each day started like a new day with new challenges, but as a team we found a way to solve them."
A peek into the future
The EverLoop by SAP plant is starting with follow-on funding in its second year, and we are excited to see the constant development of their e-waste solution and how customers can benefit from it. "Always expect the unexpected from EverLoop by SAP," promised Ajit. "More features, more automation, more transparency and everything that's going to make e-waste disposal simple, easy, and transparent."
Now that the venture team has found their flow, it looks back on an eventful year. "We had a great learning phase and already found many ways to improve our solution," summarizes Kiruthika. And Ajit reminisces how much of hard work there was behind the scenes by the whole team during their first year:
"All that work pays off when your customer tells you how useful
the product is. That smile that comes on your face — that says it all."
Well, we can't wait to see those smiles in EverLoop by SAP's second year with the SAP.iO Venture Studio and are already curious to learn more about their future achievements.
Happy 1st anniversary, EverLoop by SAP!
About EverLoop by SAP
EverLoop by SAP helps every business to achieve zero waste by connecting stakeholders across the e-waste value chain. By simplifying and connecting organizations, EverLoop by SAP extends the life cycle of used electronic products and opens doors too for enterprises to new sustainable networks. To learn more about the future's marketplace for electronics manufacturers and e-waste recyclers, go to www.ever-loop.io/
About SAP.iO Venture Studio
SAP.iO Venture Studio drives a new era of organic growth at SAP. It invests in new ventures founded by small, entrepreneurial teams inside of SAP who are focused on building the future of enterprise business processes. SAP.iO Venture Studio provides design, development, and sales support to help these ventures launch. Founding teams join the SAP.iO Venture Studio primarily through the SAP.iO Intrapreneurship and Entrepreneur in Residence (EIR) programs. Find out more on www.sap.io/studio/