A good idea is based on a combination of intuition, customer understanding and experience. Fortunately, Travis Mattern and Will Caseber have just that. While they've been long-time SAP employees, they have proven their entrepreneurial spirit and founded the employee-led venture Source Agent by SAP. With the upcoming Entrepreneurship Day on November 16, 2021 in the US, we thought it would be great to hear from them on their entrepreneurial journey firsthand.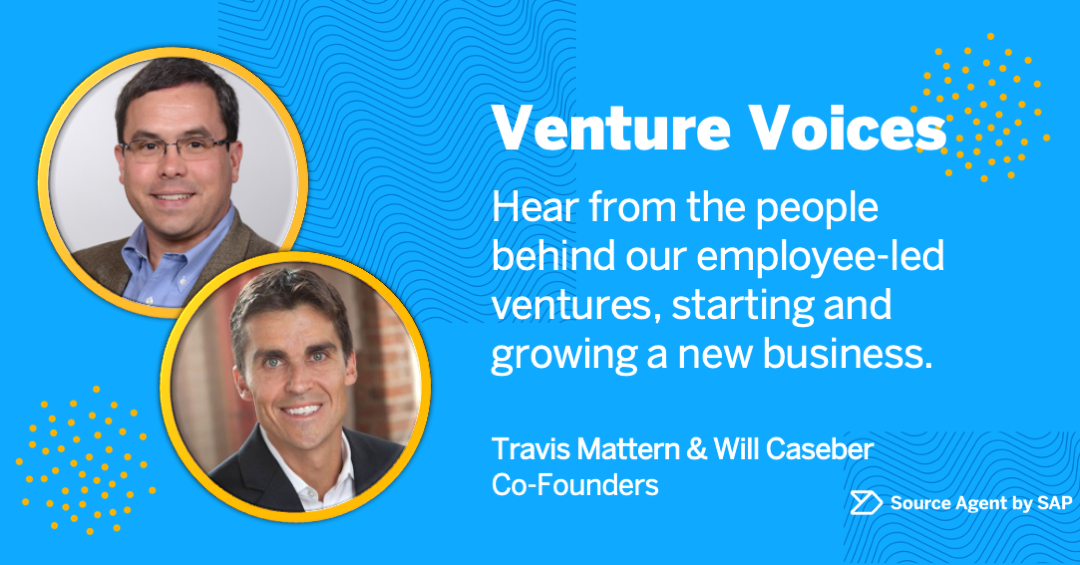 Working as a senior director in the global sales operations team at SAP Ariba, Travis was not actively trying to become a founder. But this all changed when he came across an internal tool that classifies the suppliers of a company in a matter of hours. After encountering the tool, he realized its potential — especially if it could be given to customers directly. With this idea in mind, Travis entered his idea into the SAP.iO accelerator program for employees shortly before the deadline in 2020 and was accepted.
"To be honest, I really had no idea who the SAP.iO team was, what the SAP.iO Intrapreneurship program really was all about," he said. "But when I was accepted, I learned a lot through that fast-track program and really ended up pivoting the idea through that process."
Will Caseber joined Travis right before the accelerator program started. With more than 20 years of experience in procurement and sourcing, he was the perfect fit with the right expertise.
"When I last worked with supplier classification as a value advisor, the process was highly manual, and it would take the better part of probably three to four weeks to complete," Will said. "Travis made the point using this automated process as an entry to sourcing-as-a-service; with the vision of delivering and engaging with customers in a different way, a digital way that aligns with SAP's corporate strategy. That got my attention. And that's something that evolved throughout the entire accelerator program."
A long way to go
Going through the accelerator program with coaching, pitches and weeks of deep focus, Travis and Will received their first investment and founded the venture Source Agent by SAP. Since then, they have worked tirelessly on transforming sourcing into a web-based purchasing process that supports buyers in their procurement strategy. Being the two people in charge of a venture was not only exciting but also challenging. Travis explained that even with the first round of funding he was constantly thinking about the next steps and how to handle the complexity of his new role.
"We have to cover all elements of the business: budgeting, branding, going-to-market, building a product, finding customers, HR, and finance," he said. "And I am still trying to figure out the best way to build the right culture within the team. I'm constantly challenged with where to spend my time best each day."
Will said that his biggest challenge was the lack of tangibility of their product.
"In the early stages we were pitching a dream as opposed to an actual product and that's a challenge. But we're living the dream now and we're getting some traction and recently had first customer traction," he said.
First achievements
Even though the co-founders needed to focus on many issues simultaneously, there were moments in which both could feel their progress and enjoyed the payout of their hard work. Travis felt this acutely when Source Agent by SAP went live.
"For me, a key moment was when we went live with the website, created our LinkedIn company, and updated our personal LinkedIn profiles. This was our way to tell the rest of the world: Hey, we're doing this!" Travis said.
Co-founder Will, on the other hand, associates this feeling with when the team was able to sign their first contract.
"We have been pitching the concept for quite a few weeks but you're still unsure whether or not they're going to make the decision," he said. "When they came back with a signed contract it was now very real. We have a company that's put their trust in us and now we have to deliver."
Personal progression
After eight months of intense work, Travis and Will are now enthusiastic co-founders with a team of eight members and their first customers. It's not only their job description that changed but also their way of working and of appreciating what they are doing.
"I've noticed I'm more inspired when I enjoy the work that I'm doing and I feel like it has more purpose. It has definitely been an awesome experience," Travis said. "We've got the corporate safety net but we do have the independence to run it like our own business within SAP."
Will thinks back to the moment he recognized the importance of the team: "It's getting your ego out of the way, and kind of focusing on the team delivery aspect and realizing that you may not be able to convince every customer to convert and take on."
Travis's and Will's journey was challenging and eventful, and it still is. By staying on track with the help of the SAP.iO Venture Studio they didn't lose sight of their goal: To simplify and automate sourcing to help all businesses run better. And with their first customers today, their dream becomes more and more reality.
About Source Agent by SAP
Great sourcing shouldn't be a secret. Source Agent by SAP gives you the insights and strategies to address spend intelligently and wow your stakeholders. Identify sourcing opportunities by aligning your spend to current market intelligence. Receive a targeted sourcing strategy and supplier recommendations based on your data and requirements for each spend category. Quickly convert strategies and plans into eSourcing event prep and execution. More on this venture on www.sourceagent.io/
About SAP.iO Venture Studio
SAP.iO Venture Studio drives a new era of organic growth at SAP. It invests in new ventures founded by small, entrepreneurial teams inside of SAP who are focused on building the future of enterprise business processes. SAP.iO Venture Studio provides design, development, and sales support to help these ventures launch. Founding teams join the SAP.iO Venture Studio primarily through the SAP.iO Intrapreneurship and Entrepreneur in Residence (EIR) programs. Find out more on www.sap.io/studio/