Sometimes the best ideas just come from chatting over a coffee: The founders behind EverLoop by SAP share insights on how they started their business, what hurdles they had to overcome along the way and what makes a successful team.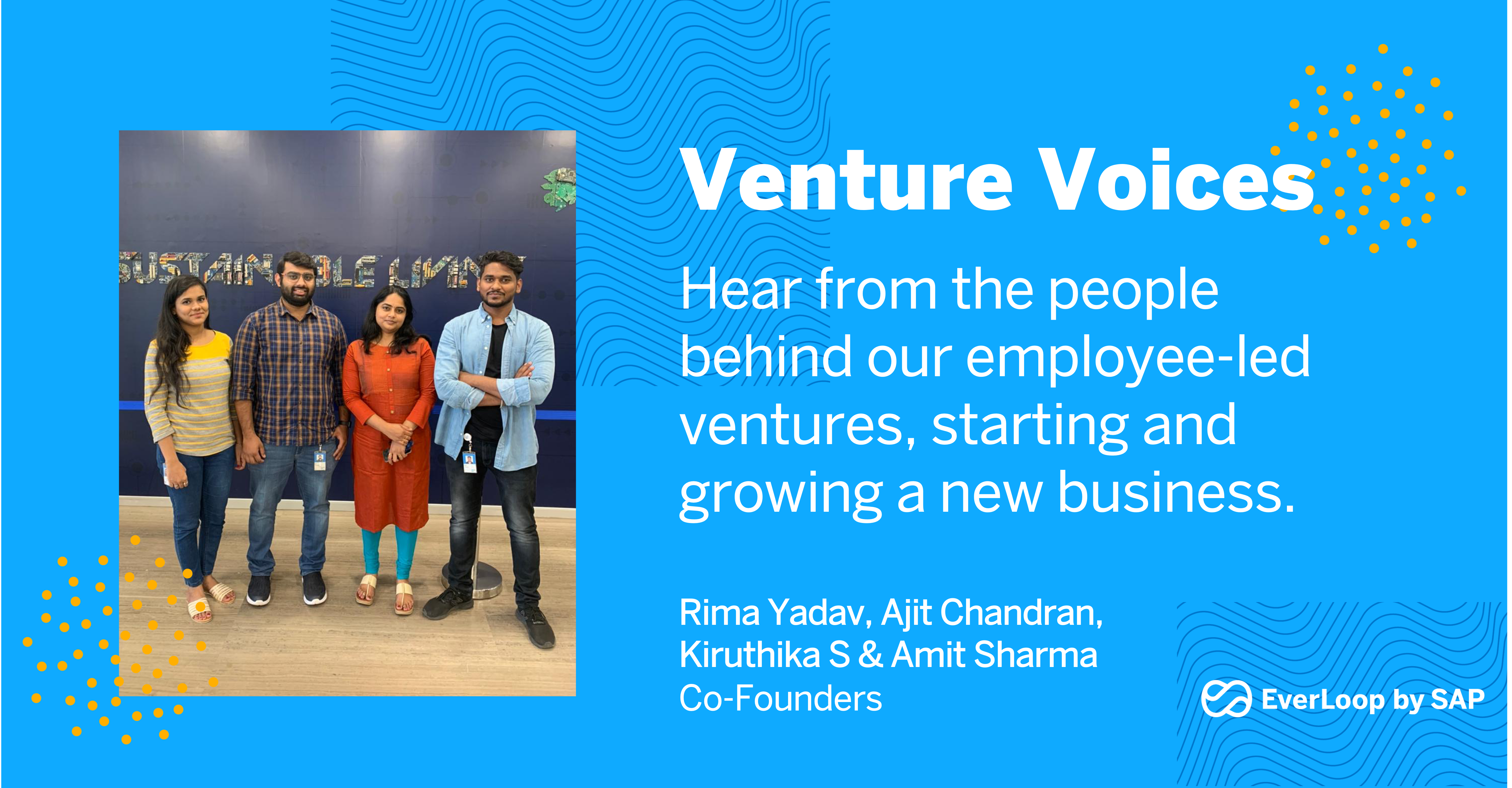 EverLoop by SAP is a B2B sustainability waste management solution with goals of empowering businesses to achieve zero waste by digitalizing the waste value chain and making it more transparent and traceable way for corporations and e-waste recyclers alike. On the one hand, EverLoop provides retailers and corporations the opportunity to find more certified e-waste recyclers for sustainable, easy disposal. On the other, e-waste recyclers can get an increased supply of e-waste by bringing secondary raw materials back to market on the same platform. By connecting the two parties, EverLoop aims to enable a circular economy that is built on responsible recycling and refurbishing across all industries.
Ajit Chandran, one of the co-founders and General Manager of EverLoop, shares how their product vision first came to life — and is now becoming a real product:
When and how did you know you had a viable idea for a start-up?
Ajit: Our idea started 1.5 years ago over a coffee, discussing a way to dispose mobile phones that are no longer being used, or are broken. Together, we counted the number of mobile phones lying around at home and found that we had nearly 10 devices. From there our curiosity drove us to start researching how much e-waste was being generated globally. Using LinkedIn, we started reaching out to various stakeholders in the industry, from waste pickers to India's largest recyclers. We also went directly to retail stores and talked to managers to validate the issue of e-waste disposal. Based on these conversations, we became confident that this was a viable solution that could solve the global problem of e-waste.
So, you have a problem to solve. Now what?
Ajit: Your team is everything. We are a team of four, comprised of Kiruthika and myself, where we manage product planning and customer tractions, while Rima and Amit work on platform development and integrations.
Once we got to know that there was a potential issue around e-waste, we took part at InnVent 2019, SAP Labs India's major innovation event. We began validating the idea and kept talking to customers — starting from waste pickers/aggregators to India's largest recyclers. After that event, we applied for SAP's Accelerator Program 2020 for employees, hosted by SAP.iO Venture Studio.
After a 6 months-long program and immense mentoring sessions, we won funding to build our product. We are beyond excited to help make e-waste management simple, easy and transparent.
Which difficulties did you have to overcome in your first months as co-founders?
Ajit: We never ran an entire business and all its operations before. Everything about starting a venture was new to us: from ideation phase to developing a new product and scaling. We had to learn everything on the fly — which was a fun challenge!
Since this coincided with the start of the COVID 19 pandemic, switching to a virtual environment was one of the most difficult situations we had to face early on. We managed it by having regular calls as well as daily discussions.
What plans do you have for the future?
Ajit: SAP is not just an enabler but an exemplar as well. EverLoop has been co-innovating with the SAP IT team in India and has already released its first internal version to them. The team now uses our EverLoop platform for their IT asset disposal in all campuses across the country. EverLoop's next milestone will be an external release to customers.
About EverLoop by SAP
EverLoop by SAP helps every business to achieve zero waste by connecting stakeholders across the e-waste value chain. By simplifying and connecting organizations, EverLoop by SAP extends the life cycle of used electronic products and opens doors too for enterprises to new sustainable networks. To learn more about the future's marketplace for electronics manufacturers and e-waste recyclers, go to www.ever-loop.io/
About SAP.iO Venture Studio
SAP.iO Venture Studio drives a new era of organic growth at SAP. It invests in new ventures founded by small, entrepreneurial teams inside of SAP who are focused on building the future of enterprise business processes. SAP.iO Venture Studio provides design, development, and sales support to help these ventures launch. Founding teams join the SAP.iO Venture Studio primarily through the SAP.iO Intrapreneurship and Entrepreneur in Residence (EIR) programs. Find out more on www.sap.io/studio/