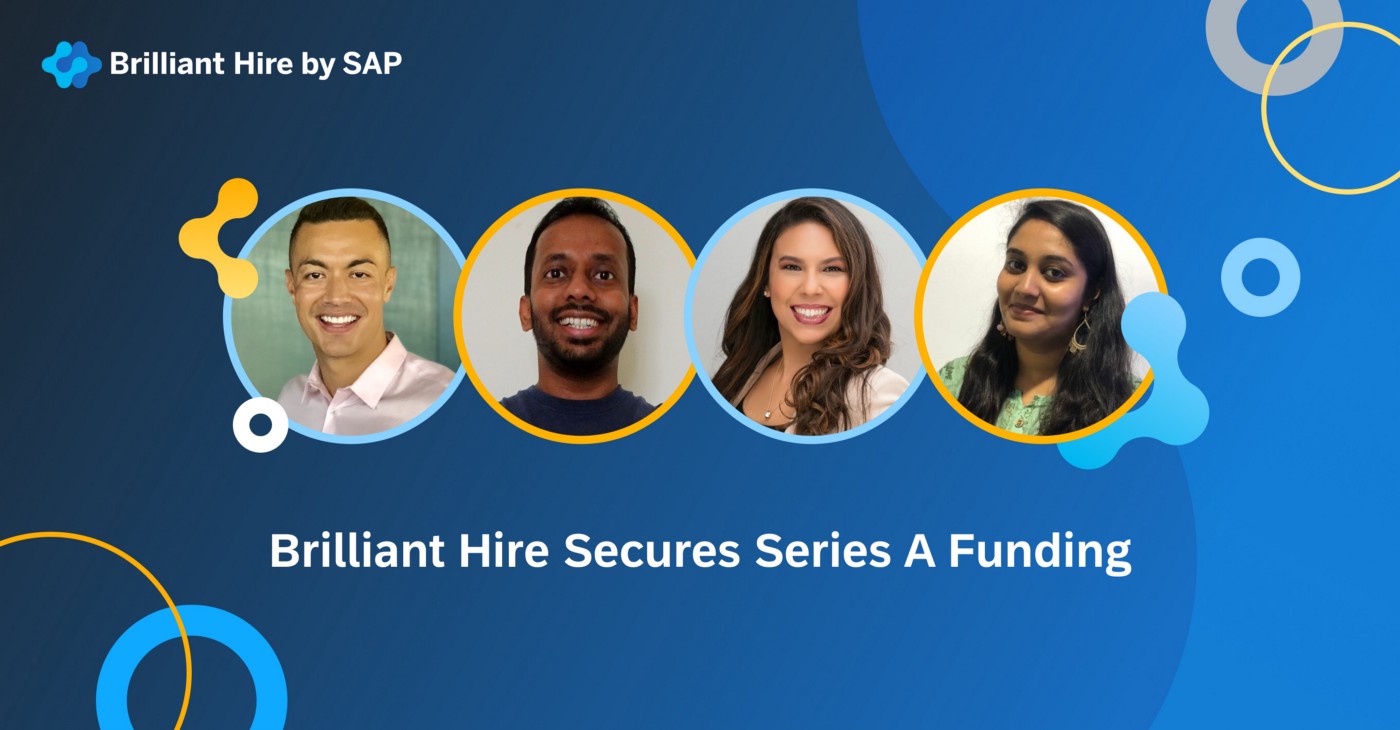 By Jacqueline Prause, SAP Global Content Team
The future shines bright at Brilliant Hire by SAP, a dynamic startup that believes in giving job candidates the agency to bring their whole selves to the companies of their dreams. Fresh off a round of venture capital funding, the employee-led startup has been given an extended runway to execute on its ambitious product vision for the talent acquisition market.
The new round of Series A funding, awarded by principal investor SAP, comes as businesses are struggling to fill jobs left open as a result of the global phenomenon known as the Great Resignation. Hiring has never been more fast-paced and competitive, with recruiters bearing the brunt of the pressure to hire workers more efficiently and achieve new standards for quality of hire. To gain an edge in attracting qualified and diverse job candidates, businesses are increasingly integrating AI-powered solutions in their talent acquisition strategy.
SAP is stepping up to address this need on behalf of customers that run SAP SuccessFactors Recruiting with an infusion of venture funding for Brilliant Hire by SAP, an employee-led startup in the SAP.iO Venture Studio, an innovation hub that helps employees start up and scale with SAP. As an organically innovated solution, Brilliant Hire by SAP brings customers the advantage that it integrates with and is developed in parallel to SAP SuccessFactors.
Delivering the Candidate-First Experience
With the successful validation of Brilliant Hire's three-year product roadmap, Jeanine LeFlore, General Manager, Brilliant Hire by SAP, says the team is already building out the solution with new features to address some of the toughest challenges in recruiting. For many recruiters, providing an amazing candidate experience is now top of the agenda.
"The industry is at a crucial juncture right now," LeFlore says. "Delivering a powerful candidate-first experience is paramount to the success of any company in the talent acquisition landscape today. At Brilliant Hire, we put the candidate at the core of everything we do, and this in turn is what drives the highest value for our customers."
LeFlore sees the next stage of development as a golden opportunity to leverage the momentum Brilliant Hire generated in 2021. The team plans to build out its vision for an intelligent data platform that enables recruiters to develop authentic relationships with both active and passive candidates, while using data to create personalized journeys for candidates. She says, "We are seeing tremendous traction in the recruiting space with our smart job matching AI/ML- powered technology, and we've just scratched the surface. With this new round of funding, we will double down on building the most compelling candidate-first experiences that connect recruiters with both active and passive candidates — to meet them in their environment, rather than making candidates have to search."
Attracting More Qualified and Diverse Talent
For companies seeking to hire more qualified and diverse talent, Brilliant Hire by SAP helps increase the visitor-to-applicant ratio on careers sites and empowers diverse candidates to apply for roles best fit to their qualifications. In an example of how SAP runs SAP, the global software company runs Brilliant Hire on its career page, which is a vital hub for the one million-plus members of its talent communities.
"With Brilliant Hire by SAP, we are able to leverage AI to elevate the candidate experience and help candidates find the SAP job that is best fit to their skills," says Elke Manjet, Global Head of Talent Attraction, SAP, and Member of the Executive Board of Advisors for Brilliant Hire. "We are seeing strong results from our use of Brilliant Hire's smart job matching feature, both in terms of KPIs and qualitative feedback from candidates. Candidates really like that they can immediately see if they are a strong match for an open position or if they qualify for other positions they had not considered — so that the best-fit jobs find the candidates and not the other way around. We want people to have an amazing experience along their SAP journey from the start, and we do that by presenting the very best of SAP technology and innovation."
Brilliant Hire by SAP offers a pilot of smart job matching for SAP SuccessFactors customers on SAP Store with self-sign-up for customers in the U.S., Germany, and India. The team recently presented smart job matching during its Be Brilliant! webinar series, available for on-demand viewing here.
What is Series A funding for an intrapreneurial venture?
The SAP.iO Venture Studio supports employee-led ventures from small, entrepreneurial teams. Although these ventures are housed within SAP, they experience all the same growth opportunities and challenges that are typical for startups, including technology innovation, market fit and funding.
"Series A funding for an intrapreneurial venture is not unlike funding for an external startup," says Ram Jambunathan, senior vice president and general manager, SAP.iO Venture Studio. "Our approach is to 'build fast and learn things.' Investments are made based on achieving aggressive milestones aligned to product development and business execution. Each venture in the Venture Studio has an executive board that holds it accountable to meeting milestones. What makes the Venture Studio such an exciting opportunity for SAP employees is that we empower employees to drive and own the progress and success of their venture. The Venture Studio provides an incubator environment that offers these ventures runway to develop transformational solutions that will 'future-proof' SAP and its customers."
From Pilot to Venture — The Story of Brilliant Hire by SAP
The story of Brilliant Hire by SAP began with a passion for creative problem-solving, when a small team of developers at SAP Labs India pitched the winning solution at an SAP internal hackathon in 2016. It was the start of a remarkable entrepreneurial journey for the team and their pilot project.
"The inspiration for Brilliant Hire came from our own hiring experience," says Hemant Shetty, co-founder, Brilliant Hire by SAP. He recalls his astonishment as he was interviewing many candidates to scale the team. "There was a 90 percent rejection rate in the first round of interviews. We realized that finding the right candidate is like finding a needle in a haystack."
The experience gave the team insight into the pitfalls of the hiring process and opened the way for the launch of Brilliant Hire by SAP, which found seed funding after a successful pitch to the SAP Innovation Center Network (ICN) in 2017. "Hiring is time consuming and it includes human unconscious bias. At Brilliant Hire, we wanted to solve this and create experiences for recruiters as well as candidates," Shetty says.
In 2018, the team joined the SAP.io Venture Studio to begin working full time on Brilliant Hire by SAP as an independent venture. Brilliant Hire has grown from a three-person pilot to a dynamic team of twenty passionate experts spread across India and the U.S., who bring a diverse range of experience to solving challenges in recruiting. With its third round of funding, Brilliant Hire by SAP shines a bright light on the possibilities for AI to elevate the candidate experience in talent acquisition.
"We believe in creating a world where a candidate's dream job finds them," says Swetha PB, co-founder, Brilliant Hire by SAP. "We've focused on building an intelligent and inclusive platform that provides companies the ability to build authentic relationships with candidates they want to hire and candidates to own their successes."
The future of talent looks bright indeed at Brilliant Hire by SAP!
About Brilliant Hire by SAP
Brilliant Hire by SAP is a dynamic startup in the HR Tech space with teams in San Francisco and Bangalore. It offers an AI-powered application that integrates with SAP SuccessFactors to deliver a more personalized and inclusive candidate experience on companies' careers sites, and streamline processes for recruiters. Brilliant Hire by SAP is a venture within the SAP.iO Venture Studio.
Find out more on www.brillianthire.io
About SAP.iO Venture Studio
SAP.iO Venture Studio drives a new era of organic growth at SAP. It invests in new ventures founded by small, entrepreneurial teams inside of SAP who are focused on building the future of enterprise business processes. SAP.iO Venture Studio provides design, development, and sales support to help these ventures launch.
Find out more on www.sap.io/studio