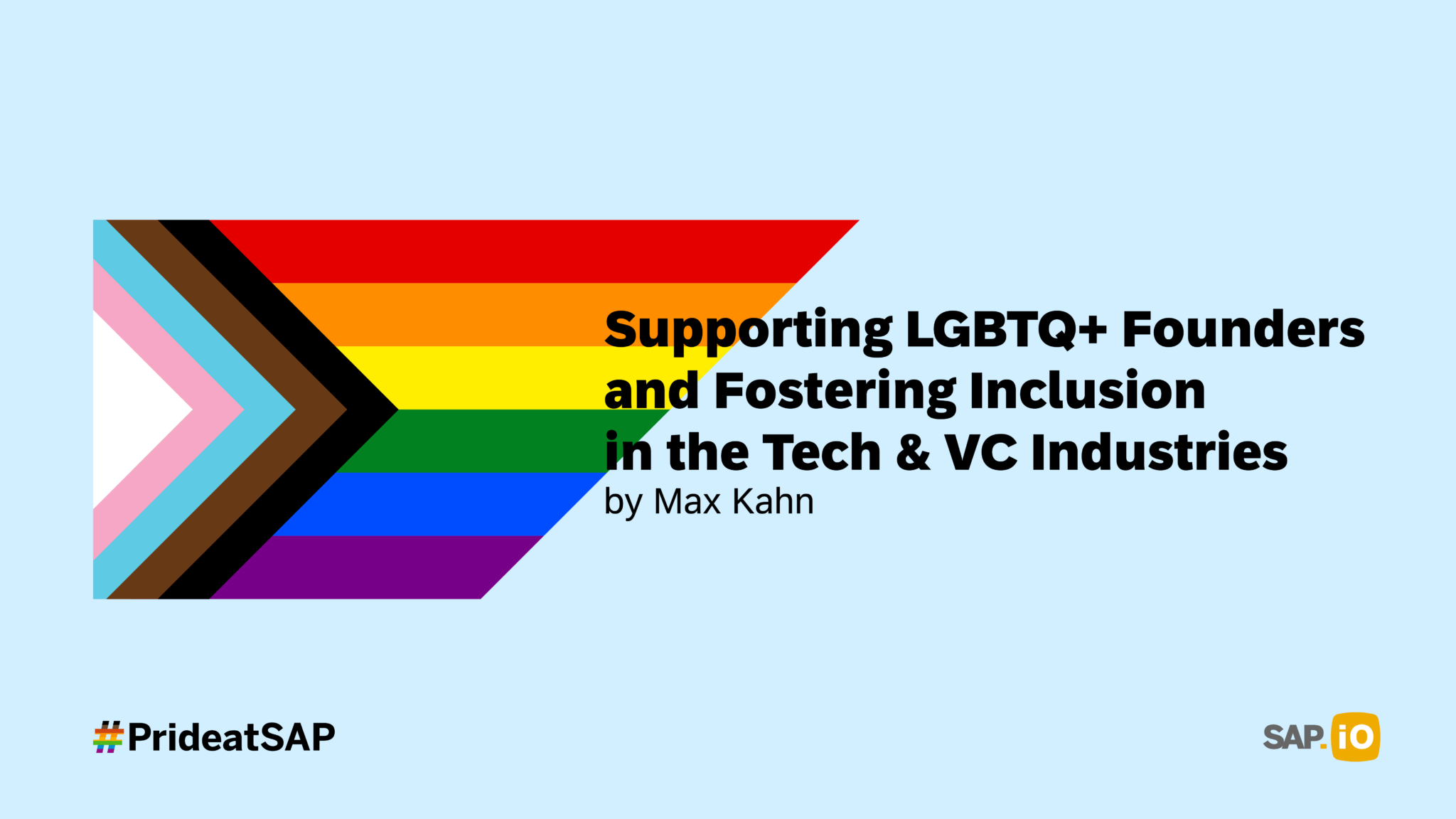 By Max Kahn, Director, SAP.iO
As an out and proud leader at SAP, I couldn't be more excited to celebrate Pride Month and recognize the inspiring LGBTQ+ individuals who've made a significant impact in the world of tech, entrepreneurship, and venture capital. This month, we not only celebrate our community's resilience and pride, but also reflect on the progress we've made and the work that still needs to be done to create a more inclusive and equitable world. In recent years, the world has seen a surge of innovative LGBTQ+ startup founders who've broken barriers and paved the way for a new generation of entrepreneurs. Despite these achievements, the world of venture capital continues to be primarily male & pale, with only a small percentage of investments going to startups founded by women, members of the LGBTQ+ community, and people of color.
According to a study by StartOut, LGBTQ+ entrepreneurs are less likely to receive funding from investors compared to their non-LGBTQ+ counterparts, despite having comparable or even better performance metrics. This disparity highlights the pressing need for greater representation and support for the LGBTQ+ community in the venture capital space. As corporates, we have a responsibility to do better and foster an inclusive environment that encourages and supports LGBTQ+ employees & founders.
Here are some ways we can contribute:
1. Educate investors and customers about the value of diversity: It's proven that diverse teams lead to better decision-making and innovation. By educating about the benefits of funding underrepresented founded & led startups, we can continue to shift the narrative and encourage more inclusive investments. For example, companies that embrace pro LGBTQ+ policies outperform those without them in the stock market by more than three percent. In our SAP.iO portfolio, underrepresented startups make up 44% of our portfolio and tie or surpass their counterparts in benchmarks used to measure success including number of exits and likelihood to progress in their partnership with SAP.
2. Embrace inclusive policies & benefits: Encourage your company and portfolio companies to adopt policies and practices that are inclusive and supportive of LGBTQ+ employees. Join SAP by embedding inclusive language into the DNA of your company, offering comprehensive coverage for gender-affirming care, and providing fertility support and family-building benefits for people of all identities. Recognizing pronouns is also essential to creating an inclusive environment for transgender and nonbinary colleagues. I'm proud that employees can easily add their chosen name and personal pronouns to their people profiles in SAP SuccessFactors. In addition to building inclusive companies and ecosystems, lobbying for equality is more important than ever. It's important to recognize that one-third of the countries worldwide still criminalize homosexuality.
3. Foster collaborations & partnerships: Collaborate with organizations, accelerators, and non-profits that specifically focus on supporting LGBTQ+ founders and funders. Partnerships create a stronger support network for LGBTQ+ entrepreneurs and contribute to their long-term success. In addition, supporting emerging LGBTQ+ VCs increases diversity within the VC community and drives more equitable decisions. Organizations like StartOut, Gaingels, and Out in Tech are fantastic resources for both startups and corporates to get involved with.
This Pride Month let's celebrate the achievements of our community and continue working together to build a more inclusive and equitable future for all.