Receivables teams might need to look across the hall to their procurement and payables counterparts for a transformation roadmap.
By Andrew Blum, Head of GTM and Customer Engagements, Paid Pronto by SAP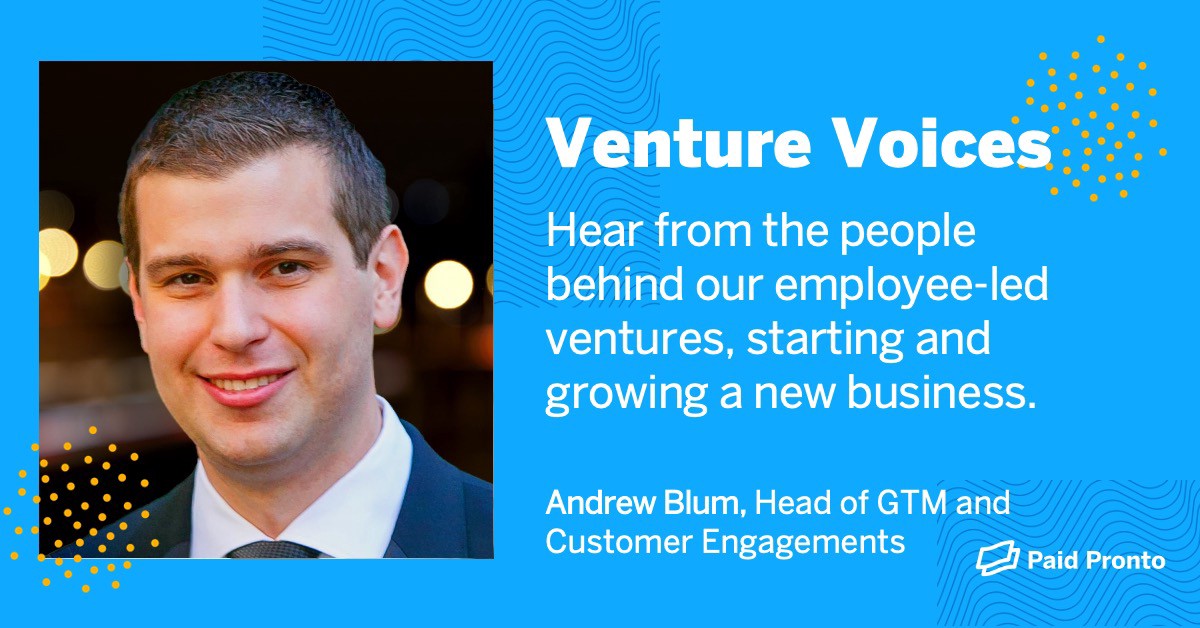 The path is laid out
The procurement and payables space has been transformed by a digital revolution over the last few decades. This has in turn enabled significant automation. I'm lucky to have witnessed it firsthand as a practitioner, consultant, and technology advisor. Procurement and accounts payable organizations have evolved from focusing on tactical, cost-control measures to adding meaningful value towards the organization's bottom line. Local or regional organization structures have been replaced by centralized global procurement organizations.
Technology has been at the center of this revolution and the results are clear. Compliance and cost-control is managed by the technology which allows procurement professionals to focus on higher-value, strategic initiatives.
This great transformation has increased the importance and visibility of the roles within the organization. Often an afterthought, a Procurement Manager used to be the middle person executing on the tactical parts of purchasing. Now that the tactical tasks are automated, and focus is on adding strategic value to the bottom line, we've seen a surge in companies adopting the title of Chief Procurement Officer — a reflection of the value that they bring to the enterprise.
Is Accounts Receivables really that much different than Procurement and Accounts Payable?
When I joined Paid Pronto by SAP and took a deeper look into the accounts receivable space, I realized that it's very similar to where procurement was 20 years ago and ripe for evolution. In fact the only major differences between accounts receivable and its procurement and accounts payable counterparts are that we're talking customers instead of suppliers and managing invoices instead of purchase orders.
If the global pandemic has taught us anything in the business world, it's that a strong cash flow helps prepare enterprises for anything. Outside of increasing sales or improving margins, there are two levers that finance organizations have to improve cash flow: (1) increase payment terms or (2) decrease receivables.
All too often, I see organizations only focus on the first lever. I've seen firsthand where a company made a blanket increase to their standard payment terms, from Net-45 to Net-120. And while larger suppliers can (uncomfortably) accept that, this is potentially fatal to smaller businesses that don't have deep capital pockets.
So, we need to start focusing on the second lever, and optimize receivables. This presents a massive opportunity for Receivables Managers to provide strategic value to the enterprise. They are now at the same inflection point that procurement and accounts payable managers were at 20 years ago.
The opportunity case is there. Improving days sales outstanding by one day provides a $2.7M cash flow benefit for every $1B in sales. Simply put, the receivables team can easily make a material impact on the bottom line. A cash flow benefit of this magnitude is sure to make any C-suite notice, especially in capital intensive industries.
The key to unlocking this value is automation of tactical activities so receivables professionals can use their expertise to focus on the complex problems. A receivables agent typically spends most of their day putting out fires and executing routine tasks, unable to tackle their work in a strategic manner. Whether it's asks from a customer to update a contact or upload to a portal, internal payment status queries, or just trying to get others to respond, there is a huge opportunity for automation.
It's uncanny how similar this opportunity is to what procurement and accounts payable teams faced a just a few decades ago. They've successfully tackled this problem and have been rewarded with a seat in the C-Suite. So, I ask the question: Isn't it time that we see a Chief Receivables Officer?
Paid Pronto by SAP is your transformation partner
We at Paid Pronto want to be your partner as you embark on this transformation. Our solution automates standardized receivables tasks, so that your receivables team can focus on the complex, high-value-added activities. Early pilots have shown significant improvement in day sales outstanding, total cash collected, and number of open invoices.
Paid Pronto by SAP is currently looking to expand our pilot program. If you are interested in letting us obsess over your success as part of the program, reach out to paidpronto@sap.com.
Find more also on www.paidpronto.io
About SAP.iO Venture Studio
SAP.iO Venture Studio drives a new era of organic growth at SAP. It invests in new ventures founded by small, entrepreneurial teams inside of SAP who are focused on building the future of enterprise business processes. SAP.iO Venture Studio provides design, development, and sales support to help these ventures launch. Founding teams join the SAP.iO Venture Studio primarily through the SAP.iO Intrapreneurship and Entrepreneur in Residence (EIR) programs.