At SAP.iO, we work with innovators and new technologies that positively impact our world every day, and we think it's time to share their stories with you! In our series, "Inspiring Innovators," we hear how founders, CEOs, and presidents of cutting-edge startup technologies overcame, thrived, and pursued their goals. SAP.iO's Alexa Gorman sat down to discuss the road to success and lessons learned with some of our most inspiring startup founders.
Meet Alex Lamb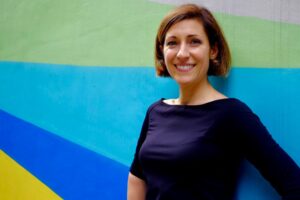 People described as bold tend to listen to their gut, prioritize, take action, and demonstrate courage. Boldness inspires and energizes, both of which are important qualities in a leader and a coach. As the Chief Executive and Founder of BOLDLY, these are traits that Alex Lamb personifies. In addition to her leadership role at BOLDLY, Alex is also a fractional Chief People Officer, organizational psychologist and executive coach, and has a deep understanding of how to create an environment to develop people's skills. We were excited to have the opportunity to speak to Alex about her path, starting with looking for career advice, to coaching, to becoming a Founder and Chief Executive.
Working in Shanghai and Hong Kong for Korn Ferry over seven years, Alex honed her skills in various positions, from client management to product development. To get direction for her next career move, Alex started searching for a framework for decision-making which led her to studying evidence-based coaching practices and becoming a coach herself.
Observing an appetite for customized solutions suited to Asia, Alex moved to Singapore and started a consulting service designed to nurture domestic leadership talent. The service grew rapidly, taking on 11 consultants, and she quickly realized they needed a coaching technology platform to build BOLDLY beyond the reach of consulting. Alex launched the BOLDLY platform in 2017 to democratize coaching.
BOLDLY is a global coaching marketplace of qualified executive coaches and career coaches who are trained to develop staff and impact business performance using evidence-based coaching practices. Coaching is an evidence-based career development method proven to nurture professional growth, enhance workplace performance and provide targeted support for vocational confidence, competence, and leadership development. Their mission is simple: to ensure everyone has equal opportunity in the future of work.
"I figure if I don't show up and have a try at something, somebody else will. And so, why not me? I often do things that scare me or might be a bit awkward at first, but this is where I learn. So being bold and finding courage has meant that we've taken the business further than we expected."