At SAP.iO, we work with innovative people and new technologies that positively impact our world every day, and we think it's time to share their stories with you! In our series, "Inspiring Innovators," we get to hear how leaders of cutting-edge startup technologies overcame, thrived, and pursued their goals. SAP.iO's Alexa Gorman sat down to discuss the road to success and lessons learned with some of our most inspiring startup founders.
Meet Chandralika Hazarika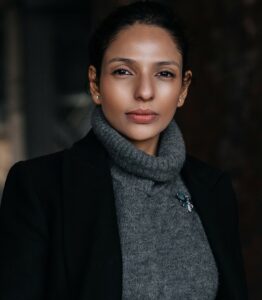 Having someone anticipate your needs before you ask is something of a talent. Waitstaff that refills your glass at a restaurant without being asked, a business offering umbrella's on a day you've forgotten yours, or a friend that drops by with coffee on the morning you've run out. Being able to think ahead and predict what your family, friends, or even customers might need is a tricky skill to manage, but useful. Sometimes it is a case of the right place and the right time, as it was with our next inspiring innovator Chandralika Hazarika. Her unique combination of skills and strategic vision allowed her to anticipate a need in the marketplace BEFORE it became critical, thus allowing her company to come ready with a solution as soon as it was sought. Most useful indeed.
With more than 15 years of branding and marketing experience, Chandralika turned her attention to entrepreneurship with a focus on building digitally empowered brands. An architect by education, she always wanted to do something on the creative side of the business with people. While she worked as a branding manager, she gained experience understanding design and working with technical people.
In an instance of the right place, right time, Chandralika met her future co-founder, Shivang Desai, by chance in Bangalore when he was searching for tech talent. With a background in finance and strategy, Shivang had already started three technology companies. The two realized that their strengths were completely different but complementary; thus coming together to create something new would have a great chance of success. Looking to build simple, intuitive high-tech products that are quickly adopted, they came together to form Bigthinx in 2016.
Bigthinx is an artificial intelligence company building software for online fashion retailers, using mobile body scanning, virtual try-ons, and digital twins. Their technology creates a 3D body scan using two full-body photos for precise instant apparel size and fit predictions, creating a personalized virtual avatar that is a digital replica and automates the production of 3D digital clothing from catalog photos at scale. This technology enables try-ons of any clothing virtually to see how it would look and fit as if in reality. These quick, easy, and impactful virtual shopping experiences drive significant reductions in returns and increased conversions for online retailers. Bigthinx works with the world's largest retailers and fashion brands in the US, Europe, and Asia.
"When you know the body data, that can be shared with the designers, so they design better for the body types in that region. You know, it's all about impacting the whole supply chain beyond just reducing returns. And in doing so, we would influence fashion design, reduce waste, and create happy retailers and customers!"
At Bigthinx, Chandralika continues to build new ways to put consumers first, still looking to anticipate their needs before they ask. In addition, she is a fashion design enthusiast and owns a fashion label called Velvet Piano. If all of this were not enough, Chandralika also received the distinguished Accenture "Women in Tech" 2021 award.