Find an Accelerator Program
We have 8 global foundries around the world offering equity-free programs. These innovation hubs accelerate 16 cohorts of startups every year.
Join now and become a part of the SAP.iO Family.
Apply Now
Foundry Locations
We expand our reach across the globe in locations with strong startup ecosystems, providing you more access to growth.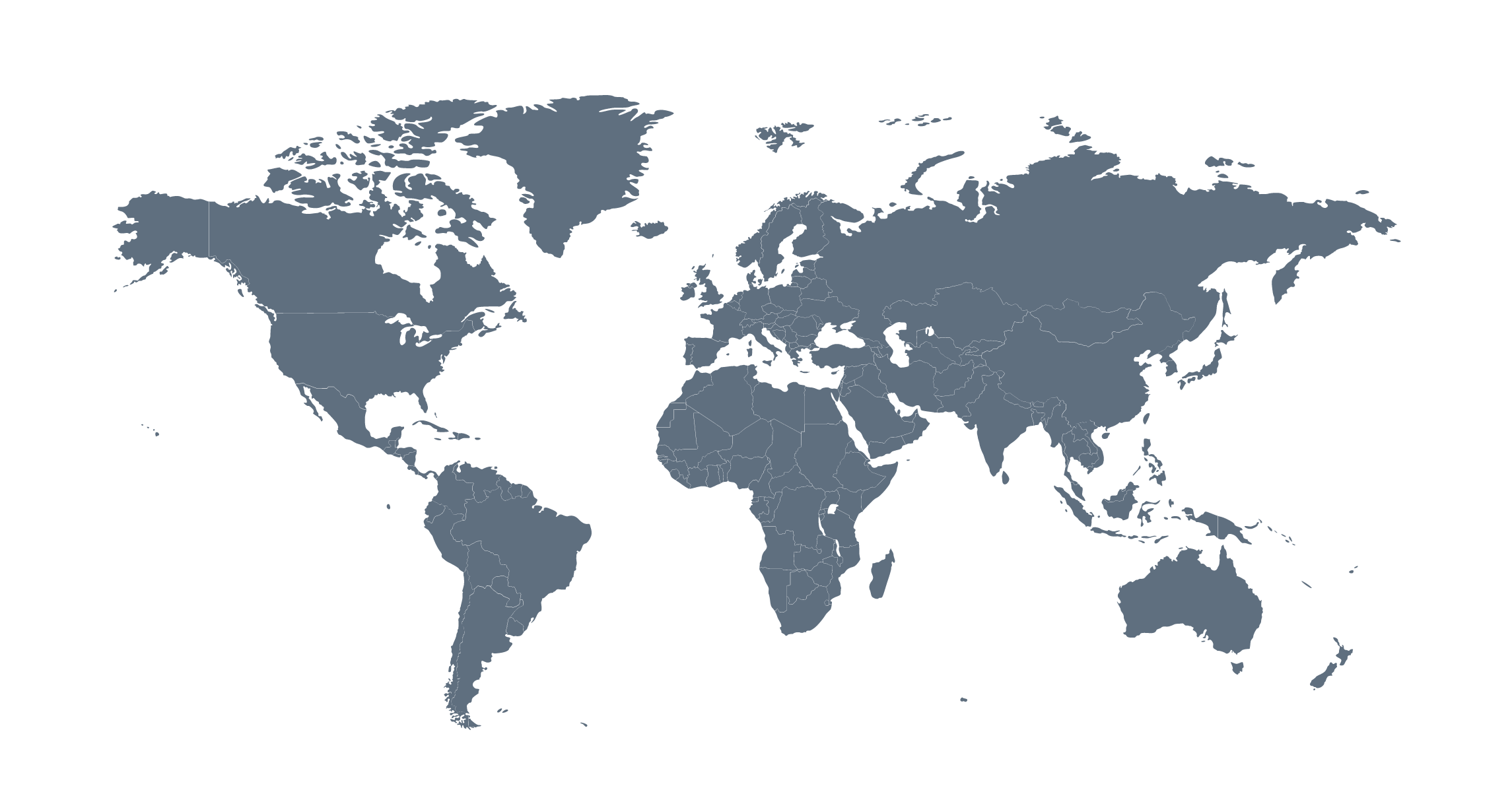 Program Details
Our mission is to help early stage enterprise startups build with SAP via integrations or APIs and provide startups with the exposure they need to gain customers.
SAP integrations/API assistance
Executive and customer visits
Business development sessions
Timeline
Our program gives you the opportunity to connect with your cohort and work alongside world-class executives and mentors.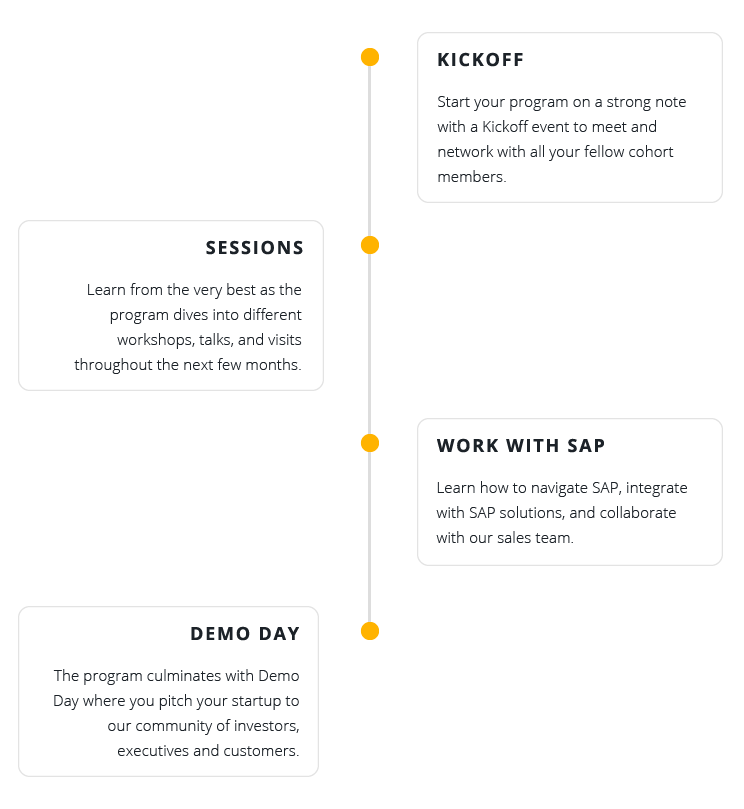 Core Criteria
Use our core criteria as a guideline to see if our programs are a right fit for your startup.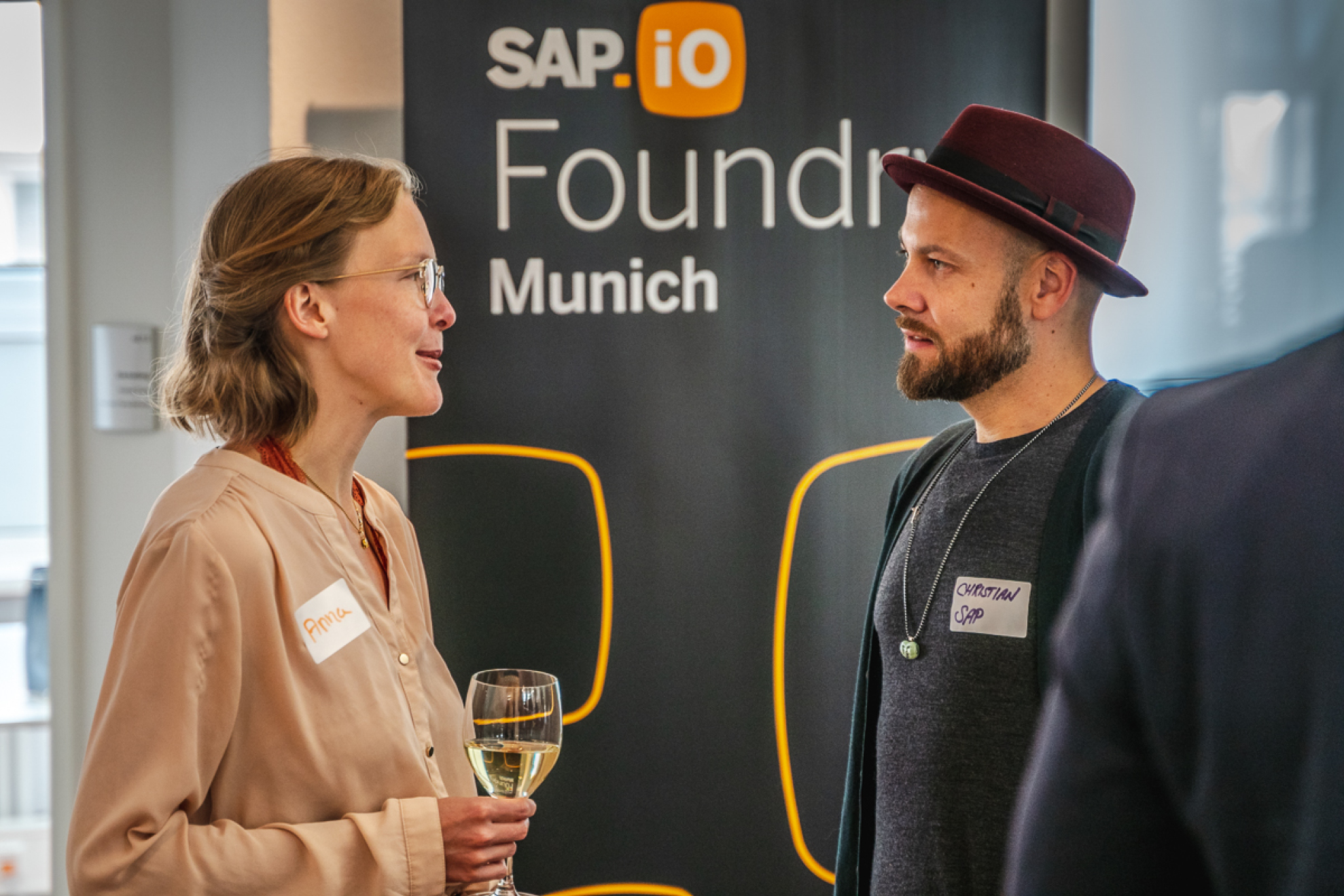 Our Initiative
We believe that making the world run better is everyone's business
SAP.iO is dedicated to closing the gap in resources for businesses owned and led by women, people of color, LGBTQIA+, first-generation and others from underrepresented groups. Founders of all backgrounds are encouraged to apply.
Learn More About Our Commitment
Current Programs & Open Applications
If the program of your choice isn't accepting applications, we encourage you to sign-up for updates and we'll let you know when the application for our next program opens.
Sign Up For Updates
Customer Experience & Commerce
Foundry Munich
This program is for startups that:
Leverage emerging technologies including ML/AI, NLP, and Blockchain to radically impact the future of customer experience or commerce
Align with the SAP Customer Experience Solutions Portfolio

SAP Business Units, SAP Commerce Cloud, SAP Marketing Cloud,  SAP Sales Cloud, SAP Service Cloud, or SAP Consumer Data Cloud
Industry 4.0
Foundry Berlin
This program is for startups that can help SAP's customers extend the value of their investment in:
SAP S/4HANA
Digital Supply Chain
HR Tech: Future of Work
Foundry Paris
This program is for startups helping corporations:
increase the value of their workforce by developing, managing, engaging, and empowering their people
Industry 4.0
Foundry Tokyo
This program is for startups that can help SAP's customers extend the value of their investment in:
SAP S/4HANA
Digital Supply Chain
Retail
Foundry New York
This program is for B2B Retail, Consumer Products, and Food & Beverage startups that:
Are innovating in the areas of Omnichannel Marketing, Customer Centric Merchandising, Procurement Excellence, Digital Supply Chain, or Omnichannel Customer Experience
Can help SAP's customers extend the value of their investment in SAP Customer Experience or SAP S/4HANA
Travel Tech
Foundry San Francisco
This program is for startups that:
Are disrupting travel tech in the areas of connected travel, expense, invoice, compliance, and risk

Can help SAP's customers extend the value of their investment in SAP Concur
Industry 4.0
Foundry Singapore
This program is for startups that can help SAP's customers extend the value of their investment in:
SAP S/4HANA
Digital Supply Chain
Consumer Products
Foundry Tel Aviv
This program is for startups that are innovating in the areas of:
Product Innovation: Expediting time to market and increasing product success rate
Manufacturing: Reducing costs and increasing agility
Supply Chain: Creating transparent and highly responsive supply networks
Marketing and Sales: Interacting with customers in a new and meaningful way