Find an Accelerator Program
We have 9 global foundries around the world offering equity-free programs. These innovation hubs accelerate 18 cohorts of startups every year.
Join now and become a part of the SAP.iO Family.
Apply Now
Overview
Our mission is to help early stage enterprise startups build with SAP via integrations or APIs and provide startups with the exposure they need to gain customers.
Focused workshops & business development sessions
SAP integrations/ API assistance
Opportunities to collaborate with SAP's 440k+ customers
Access & introductions to our global VC network
Structure
Our program gives you the opportunity to connect with your cohort and work alongside world-class executives and mentors.
Core Criteria
Use our core criteria as a guideline to see if our programs are a right fit for your startup.
Product
B2B Enterprise Software
Our goal is to help SAP's customers become best run businesses, which is why our Foundries accelerate startups focused on developing software for B2B enterprises.
Augmented & Virtual Reality
Artificial Intelligence
Machine Learning
Blockchain
Stage
Early Stage
We are looking for Seed to Series B startups that will thrive in our programs that are tailored to provide the ultimate experience in this period of growth.
Possess a product market fit
Secured funding
Have an existing enterprise customer base
Mindset
Commitment to Community
Founders are immersed in our program working with world-class executives, mentors, and customers. All programs are currently running remotely.
2-3 days a week commitment
Attend 70% of workshops
Attend Demo Day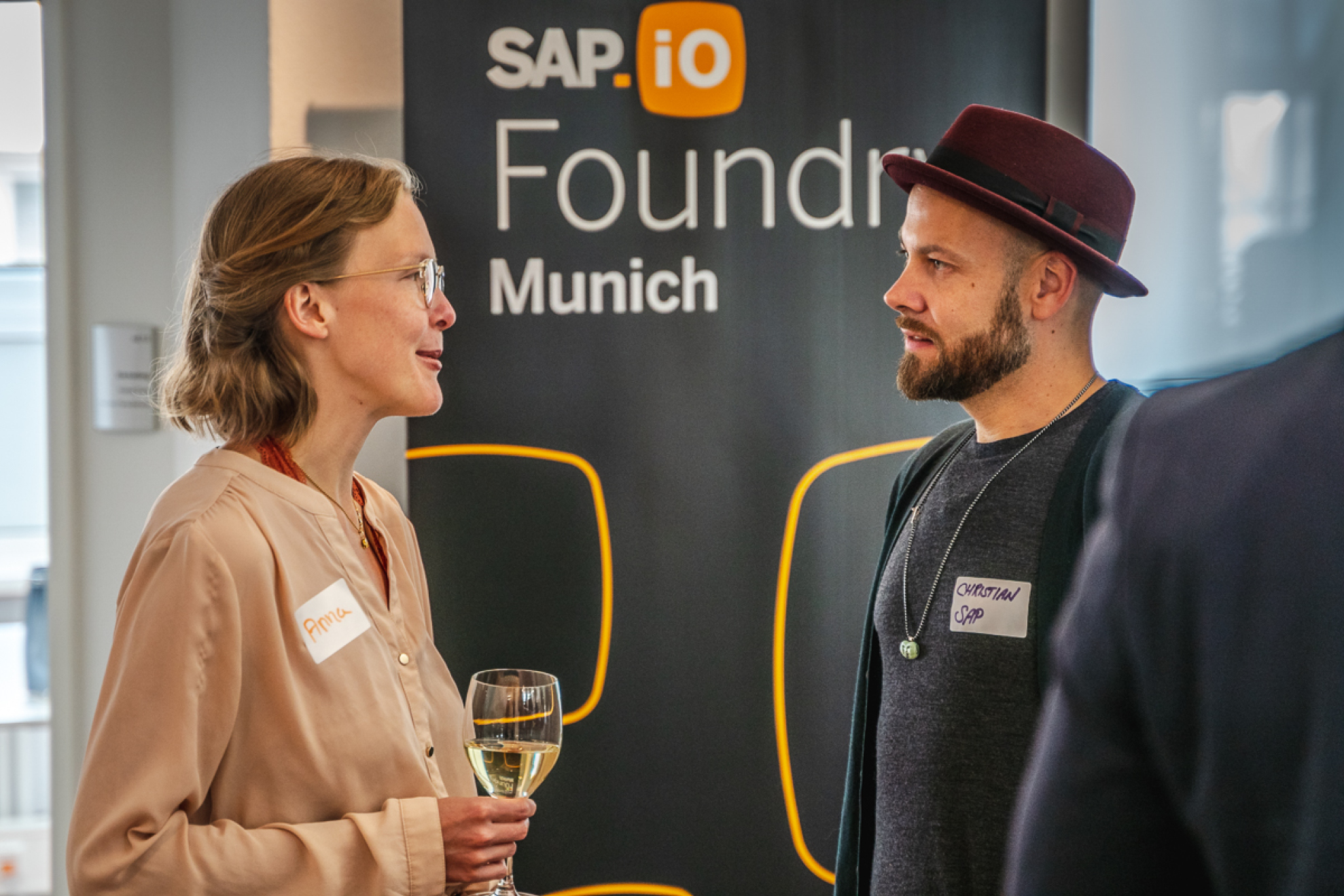 We believe that making the world run better is everyone's business
SAP.iO is dedicated to closing the gap in resources for businesses owned and led by women, people of color, LGBTQIA+, first-generation and others from underrepresented groups. Founders of all backgrounds are encouraged to apply.
Learn More About Our Commitment
Current Programs & Open Applications
If the Foundry of your choice isn't accepting applications, we encourage you to sign-up for updates and we'll let you know when the application for our next program opens.
Sign Up For Updates
Fan Experience
Foundry Munich
This program is for startups that are:
Disrupting the way fans experience events in the stadium and remotely
Innovating in the areas of fan experience, smart arena and stadium operations (such as intelligent wayfinding, loyalty platforms, immersive installations, 3D renderings, virtual and augmented reality)
Ready to imagine the future of stadium experiences in collaboration with SAP Garden – a multipurpose sports arena that will be built in Munich's Olympic garden
Analytics
Foundry Berlin
This program is for startups that are innovating in the areas of:
Data Harmonization
Enhance the quality and utility of business data by decreasing the time to create and access business intelligence insights.
Business Analytics
Use data to answer business questions, discover relationships, predict unknown outcomes and automate decisions.
Machine Learning
Use sophisticated algorithms to "learn" from massive volumes of Big Data.
Data-as-a-Service
See how you can gain a trusted, ever-ready resource for business insights, and use it to streamline processes and maximize efficiency.
Shaping the Future of Procurement
Foundry Paris
This program is for startups that are shaping the future of procurement in the areas of:
Procurement experience
Enable companies to seamlessly conduct procurement via mobile devices or conversational AI
Autonomous procurement
Enable tasks and processes to be system-driven and executed by technology with exception-based human interaction
Procurement data
Enable leveraging the huge amount of data generated across end-to-end procurement processes to add value and improve business outcomes
To deliver solutions that are, or can be, integrated with SAP Procurement Solutions to have a greater impact.
Consumer Industries
Foundry Tokyo
This program is for startups that are innovating in the areas of:
Traceability & Circular Economy
Smart Stores (focussed on convenience format)
Consumer Centricity & Experience Management
The Perfect Transaction and COVID-19 Recovery
Foundry Singapore
This program is for startups that are innovating in the areas of:
Enterprise Spend Management
Solutions that infuse intelligence in how companies manage their spend.

Fintech
Solutions that facilitate B2B payments and leverage innovative technologies such as NFC, QR-code scanning, voice activated payments, and biometrics authorization capabilities.
COVID-19 Recovery
Cashflow management,  financial forecasting, duty of care for global emergencies, workforce safety, contact tracing, real-time employee communications, remote work & productivity, talent utilization & redeployment, COVID-19 trade & tax implications.
Future of Work
Foundry San Francisco
This program is for startups that are innovating in the areas of:
Experiential/ ML-based Learning
Internal Talent Mobility & Management
Agile Team Management
Talent Assessment
Workforce Modeling and HR Analytics
Culture
COVID-19 Recovery in Automotive, Manufacturing & Retail
Foundry New York
This program is for startups that are:
Developing COVID-19 Recovery solutions for Retail/Commerce, Automotive and Manufacturing industries
Focused on Customer Experience, Supply Chain, Intelligent Tech, Finance, ERP
Women and/or Diverse-led
Have a female or diverse co-founder and/or an executive team member with significant equity
Utilities Industry
Foundry Tel Aviv
This program is for startups that are innovating in the areas of:
Retail & Prosumer
Retail platforms that enable new services and business models such as peer-to-peer trading, e-mobility, home energy management and virtual power plants.
Enterprise Asset Management
Drive asset upgrades while holding down costs with advanced asset management including asset health and predictive maintenance on utility specific assets.
Generation & Renewables
Support management of changing generation, storage capabilities and maximize coverage and capture of energy from their renewable sources.
Transmission & Distribution
Advanced analytics to optimize losses management, drive operational efficiency and performance optimization through advanced distribution management systems and advanced device management and connectivity capabilities.
Consumer Industries
Foundry Bangalore
This program is for startups that are innovating in the areas of:
Digital Supply Chain
Smart Store/ Self-service Consuming Apps
Help retailers connect with their principals/brands
Connect Farmers with Consumers
Applications Due
August 2020
Program Begins
September 2020
Program Ends
November 2020
Applications Closed