How to Win in the Era of Consumer-First Privacy Regulations and Changes
"How to succeed in the 'New Era of Data Privacy'?" — it's a pressing concern for brand leaders around the world. In many ways, third-party cookies were the foundation of the web as we know it today. But that bedrock is giving way, thanks to rising global concern and scrutiny over data protection, stricter governance (GDPR, CCPA, PIPL, LGPD), and the ensuing policy reforms (kicked off by internet giants Apple and Google, who are phasing out cookies). Simultaneously, as noted by Forbes, we're facing new frontiers with the vast amounts of consumer data generated and the technologies to leverage it. So with the entire industry on shaky ground, what should marketers be doing now?
This exact topic was the focus of a panel I moderated last month, at the Viva Technology conference in Paris. For the session, I was joined by experts Taylor Donnell (Vice President of Content & Partner Marketing at Jebbit) and Kris Dimitroff (Global Head of Technology Partnerships at Emarsys, an SAP company). Following are selected questions and answers from that panel discussion.
[A short background before starting: Jebbit is an SAP partner and SAP.iO Foundry graduate. Jebbit's solution empowers businesses to securely and transparently collect first- and zero-party data from their customers via interactive quizzes, and it's integrated with SAP Emarsys and SAP Customer Data Cloud. Emarsys is an industry-leading customer engagement platform trusted by innovative brands across the globe and was acquired by SAP in 2020.]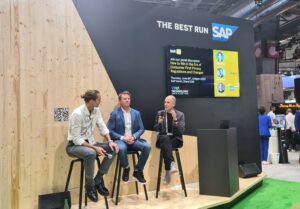 Taylor, before we jump into challenges, can you please explain what is "Zero-party data"?
Taylor Donnell: We often associate first-party data with consumer's behavioral and transactional data. What they clicked or swiped-up on, opened, viewed, and purchased. First-party data is incredibly valuable for brands but with it, comes inferences and assumptions. It's hard to know for sure if a consumer was shopping for themselves. Was that golf club they just bought for themselves or for their dad as a Father's Day gift? Zero-party data differs from first-party data because it's explicit. It's data that's coming directly from the consumer as they raise their hand and self-declare that these are my interests and preferences.
Zero-party data is important because it gives the user control over the data they share, or don't share with a business about their preferences, needs, motivations, intentions, and more. They opt-in to engage and share more information about themselves versus all of these things running in the background that are tracking them.
Often, businesses try to collect consumer preference data using traditional survey tools which aren't all that engaging for consumers, often include too many questions, and are one-way, meaning the brand wants to take inventory of how consumers feel about their brand. This results in low engagement and even lower completion rates.
Taylor, how can Jebbit help brands to "win in the era of consumer-first privacy regulations and changes"?
Taylor Donnell: GDPR and CCPA were the first big changes — requiring businesses to be crystal clear about the data they were collecting and how it was being used, and even giving users the ability to enact their right to be forgotten so that the business didn't share or sell their data.
And more recently, Apple and Google have made significant changes to protect consumer's privacy but [at the same time] are impacting bottom-line revenue and market share for businesses and brands.
By using Jebbit, our clients can create beautiful, interactive quizzes and experiences that capture zero-party data at scale and that look/feel like the brand running the experience (without touching a line of code). For example, a retail or beauty brand might create a "Find the right product for you" quiz and embed it right on their homepage. Consumers answer 5-7 questions and get matched to only the most relevant products, based on what they told the brand as they engaged.
We're experts––with the expertise built into the software––at capturing and sustaining user attention. The proof here being [that] our average experience completion rate is 85% or more. So we have businesses capturing hundreds of millions of these attributes, and some far less but focusing only on the attributes that matter most to power more relevant interactions with their consumers.