In partnership with The Riveter
SAP.iO Foundries Pitch Competition
Thursday, June 13th
The Riveter, Austin, Texas
Searching for rising stars.
Together with The Riveter, SAP.iO is hosting a pitch competition on Thursday, June 13th in Austin, Texas.
For this pitch competition, we're seeking a diverse group of exceptional founders and startup teams driving innovation in Health and Experience Management–the focus of this year's SAP.iO Foundries Fall Cohorts. The extraordinary business leaders that win the competition will be awarded fast-track access to the SAP.iO Foundries Cohorts selection committee, along with membership to The Riveter.
The SAP.iO Foundries Pitch Competition is dedicated to closing the gap in resources for businesses owned and led by women, people of color, LGBTQIA+, first-generation and others from underrepresented groups. This competition is for individuals who identify as women or someone from an underrepresented group who are founders and/or executives with significant equity in their company.
Business Area
Businesses focused on the areas of Health or Experience Management
Businesses focused on B2B enterprises. Specifically, software/SaaS B2B startups that will benefit from engaging with SAP's network of 404K+ enterprise customers across 27 industries
Businesses applying emerging technologies to unlock enterprise data and drive outsized outcomes, including AR/VR, Machine Learning/Artificial Intelligence and Blockchain
Seed to Series A
Possesses a product market fit, and funding with early traction (pilots or contracts with at least a few enterprise customers)
Ability to be in Austin, Texas on Thursday, June 13th
Finalists to arrange own travel and accommodations
SAP.iO is the early stage venture arm of SAP, the market leader in enterprise application software.
SAP.iO Foundries offer founder-friendly, no-equity-asked accelerator programs providing access to SAP APIs, SAP technologies, and opportunities for exposure to SAP customers.
During the Fall 2019 SAP.iO Foundries, teams will be immersed in a three-month in-residence program working alongside world-class executives and mentors. The highly curated SAP.iO Foundries program is developed to focus on the unique challenges of B2B companies, including: Go-to-Market, Enterprise Sales, Growth Marketing, Funding, Technology Scaling, Pricing, Product Management, and more.
For the Fall 2019 program, the New York and San Francisco Cohorts each have a specific focus:
Health
SAP.iO Foundry New York is looking for startups that:
Help hospital systems (providers) run better and improve people's lives; or

Help enterprises provide innovative health and wellness solutions to their employees at scale; or

Are helping life sciences companies be more efficient (including medical devices and health IT)
Experience Management
SAP.iO Foundry San Francisco is looking for startups enhancing helping corporates create exceptional customer experiences in the areas of:
Customer service

B2B Sales

Customer Data Management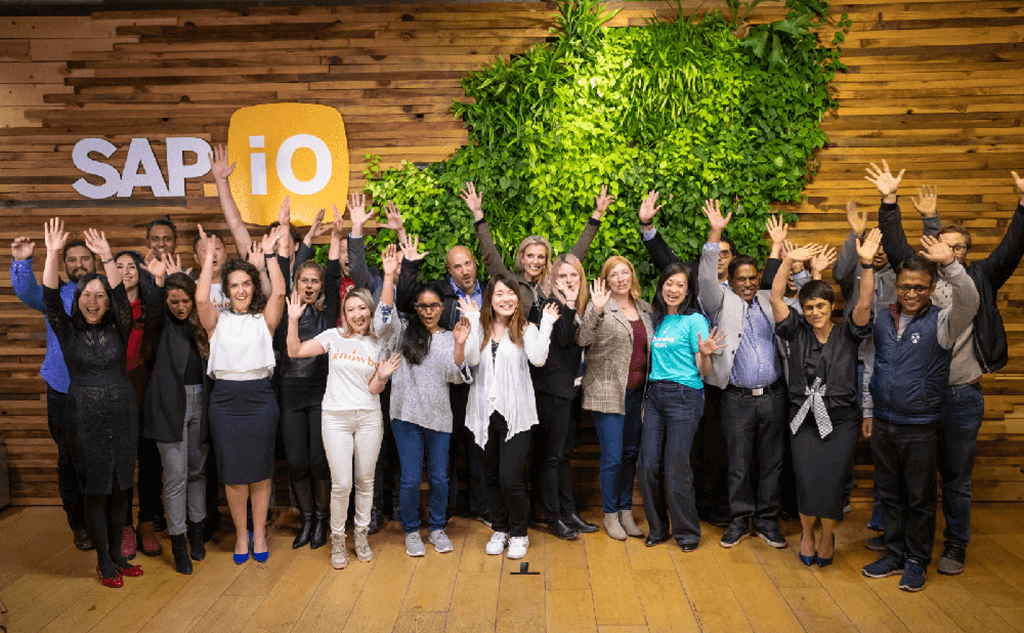 The Prizes
Four finalists will pitch their startups on Thursday, June 13th in Austin, Texas.
The winning organization will receive:
Membership to The Riveter
An exclusive invitation to present to the SAP.iO Foundries selection committee.
This is the selection committee which will determine the cohorts for the Fall programs.
Teams will be judged based on the following criteria
Team background, expertise and experience. How long the team has been working together.
Is the product / solution addressing an enterprise need that isn't being served well today?
Is there a strategic fit with one of SAP's lines of businesses?
How large is the total addressable market? Is this a global solution?
Key Milestones & Application
Submit an overview of your business — and how it aligns with the entrant criteria — by Tuesday, May 28th